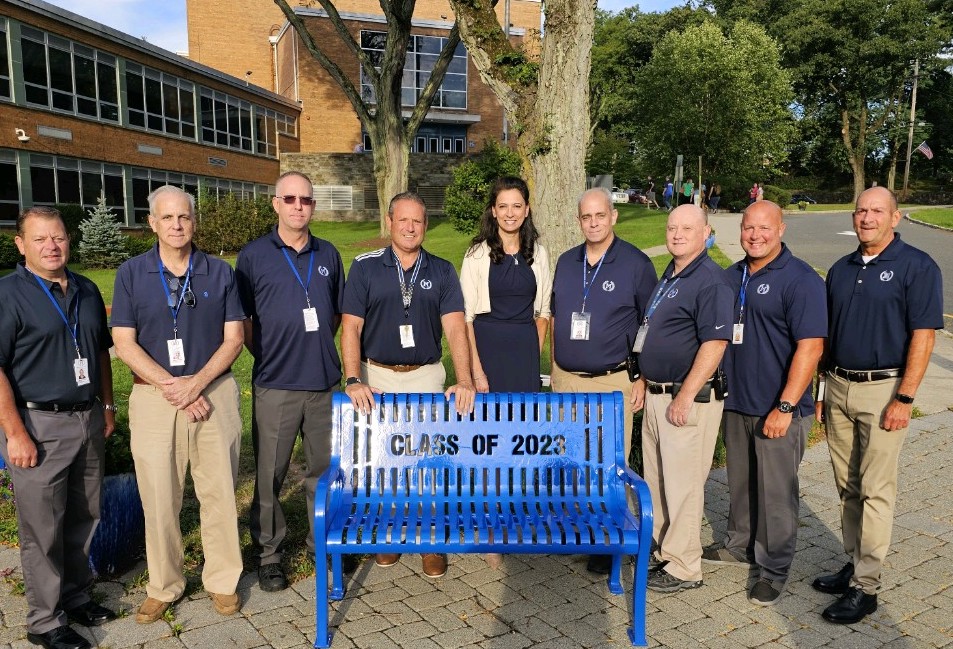 The 2023-2024 Security Team: L-R: Dave Bonney (South Mountain), Steven Laverty (Wyoming), Todd Lipke (Glenwood), Mike Palardy, District Security Director, Dr. Christine Burton, William Laverty and Bernie Neuhaus (MHS); Ron Guensch (Washington), Paul Cuomo (Deerfield). (Missing from photo Edward Mitchko (MMS), and Ken Watson (Hartshorn).
The Millburn School District's Security Department is dedicated to providing for the safety and security of all staff and students. To that end, during the 2023-2024 School Year school safety officers have been assigned to each of our 8 school buildings, with the Director of Security, Michael Palardy, overseeing these district employees. This step is in addition to a multitude of enhancements and strengthening of our security procedures and builing upgrades over the last few years, including the addition of security vestibules to all of our schools, camera monitoring and limiting the numbers of visitors during the school day.
The officers are active members of the school community. Please reach out to us with your questions and concerns at any time.
| | |
| --- | --- |
| Safety Officer | School |
| | Director of Security, Education Center |
| | High School |
| | High School |
| | Middle School |
| | Washington School |
| | Deerfield School |
| | Glenwood School |
| | Hartshorn School |
| | South Mountain School |
| | Wyoming School |